How to Register
Navigate to the top right of the webpage, and click the "Log In" tab.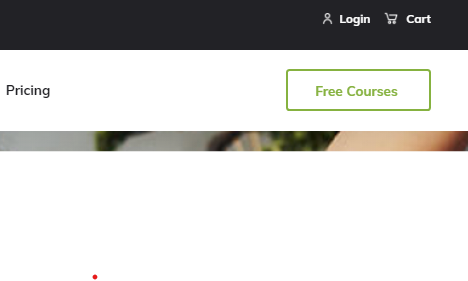 Once you've reached this page, click the link that says "Register"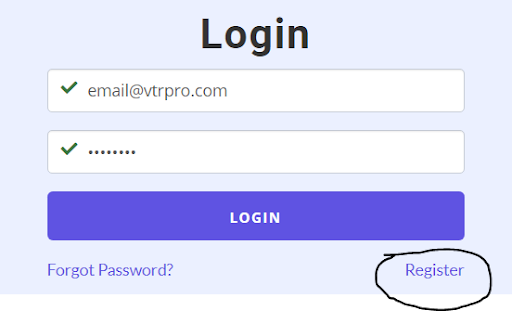 How to Get Your Free Courses
In the navigation bar, you can explore courses by the topic, organization, or explore free courses.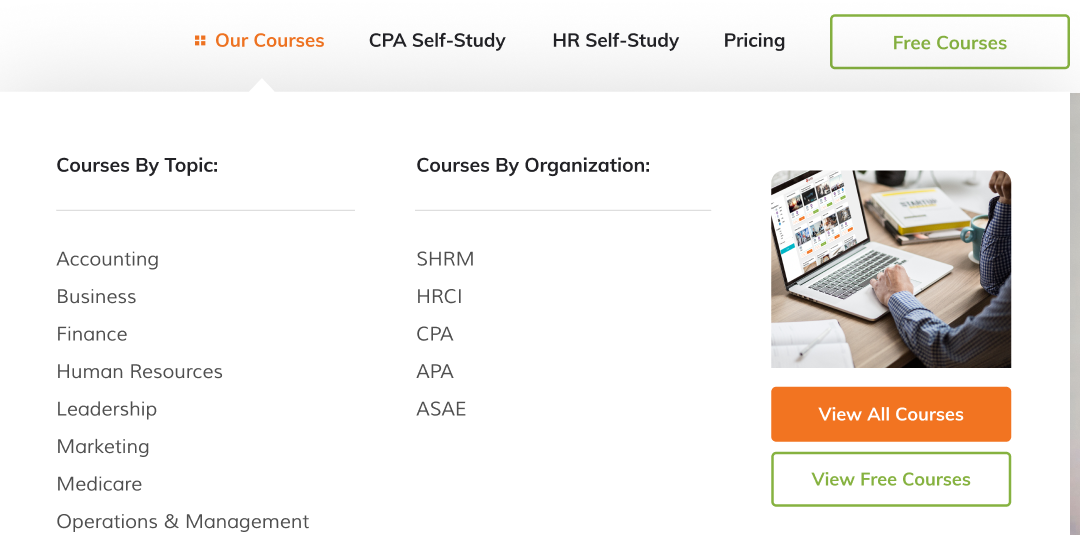 You can also view our free courses within the shop by clicking "View All Courses" and selecting "Free" from the shop filter.

After choosing your free course and clicking add-to-cart, click check out or navigate to your cart at the top right. Your cart will show your selections, and the free courses will be marked as free.

You can proceed to checkout and complete your transaction, and you will not be charged for the free course.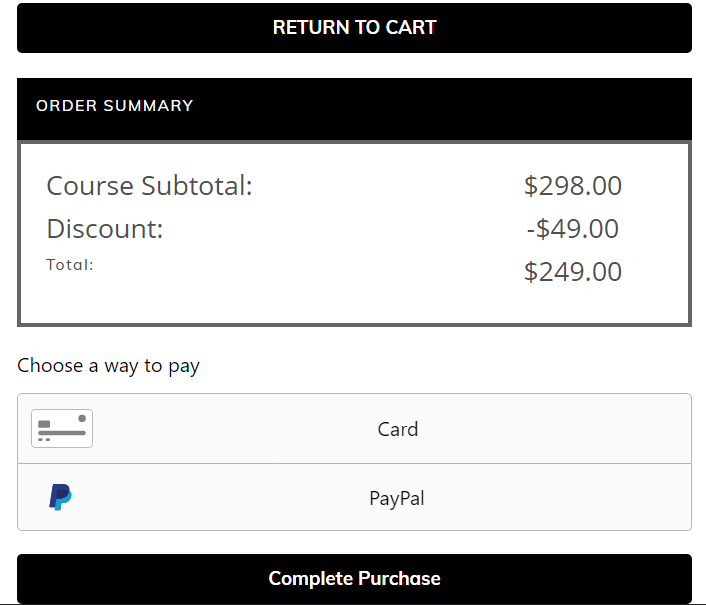 Finding My Courses Dashboard
Navigate to the top right of the webpage, where you will see a "My Courses" tab.

Clicking "My Courses" will take you to your dashboard so you can continue taking your courses!
Launching Your Course
After successful checkout, you will be taken to your "My Courses" dashboard. There you should see your recently purchased courses along with our complimentary orientation.
Simply hover over and click any course tile to get started. Course tiles will automatically rearrange themselves in order of the most recent activity.
Now that you have launched your course, let's go over some simple in-course navigation.
When you enter your course, you will be taken to the last point you completed, which is indicated in the Table of Contents.
The Table of Contents allows you to keep track of where you are in the course and provided easy navigation to previous modules or sections. Need to refresh yourself on something in the previous module? Simply click that module you wish to go back to and voila.
Just above the Table of Contents, you also have a score and progress bar. (Please note for some organizations the score and/or progress bar has been removed in accordance to their professional standards)
Throughout the course, you will receive correspondence containing information and resources from the multiple characters at Central Products, you can view these in the Email Inbox. After reading the emails you will need to use the directional arrows on the side of the viewer to move to the next section. All email are saved to the email inbox and can be reviewed at anytime.
Information and Resources may also be shared via the Fileshare.
The Fileshare is broken up by module for ease of access. To view a document, simply navigate to the correct module and click the tile of the desired file.
For assessment and quizzes, you will either select an option from multiple choices or true or false.
Medicare Courses
Our Medicare course have the table of contents, supplement materials, and quizzes contained within the viewer.
To open the Table of Contents, locate "Table of Contents" in the upper right-hand corner of the viewer, upon clicking a dropdown menu will appear, from this menu you may click any section within the course the be directed there.
To progress within the course, you will need to use the "Prev and Next" directional arrows in the lower right-hand corner.
Supplemental Resources will be mentioned throughout various points of your course, to access these materials locate "Supplemental Materials" in the upper right corner of the viewer. Upon clicking, a dropdown menu will appear and then click the resources you wish to access.
Now let's go over a few course navigation.
At different points throughout your course, you will have opportunities to interact with various elements by clicking on them to learn more or to complete an activity.
You will also have quizzes called the "Fast Five" in which you are asked to answer multiple-choice and true or false questions. These quizzes also act as practice for the assessments that follow.
Assessments consistents of 10 questions all pertaining to the module you just completed.
How Did You Get My Recertification Date?
We asked you upon registration what your recertification date was, and we may ask you, typically in a form, what your recertification date is to ensure our information is most up to date.
Why do you need it?
Knowing your recertification date allows us to tailor your experience and provide promotional opportunities to you. We have special sales and marketing offers centered around your individual recertification deadline so that we can provide you the best savings when you need it most!
My recertification date has changed. How do I update it?
Hover over "My Account" in the upper right-hand corner until the drop-down appears.
Then click, "Settings"
Locate the Recertficate Deadline field, input the new date, and click "Save".