The Employee Lifecycle
A healthy employer/employee relationship is ultimately beneficial to the customer (and therefore, the profitability of the business) because it creates an atmosphere where employees can pursue excellence. A clear mission, proper motivation, and even social stimulation are all important factors in reducing work stress and creating a healthy, functioning workforce.
There are three main stages in the employment lifecycle which are typical for most employees.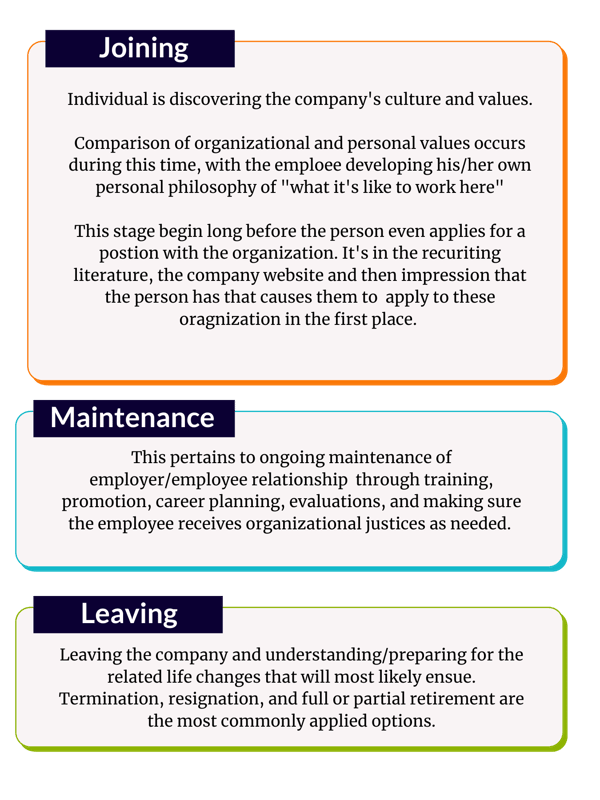 Knowing how long an employee is going to need to settle in, how much attention and support they'll need along the way, and how you'll facilitate their leaving (whether retiring, quitting, or even being let go) are major topics that affect every business and require a great deal of attention.
In the hiring process, it's vital to do everything possible to offer an accurate job description to potential recruits, which is why setting the parameters of the job is the best first step in beginning a hiring process.
No matter how well recruiting is done, an employee's initial experiences contribute significantly to their contentment with the position and value to the company over time. Giving recruits an honest idea of what it's like to work at your company ensures you eventually hire people that really want to be there, because those who are less likely to fit in well would opt out before taking the time to accept a position that isn't right for them. If you lead someone to believe they'll be working in Candyland, they're not going to be satisfied with an everyday office job.
"According to Bersin, in the U.S. today, losing and replacing an employee costs approximately 1.5 to 2 times the salary of the person being replaced."
A company of five hundred can spend up to a million dollars just by replacing fifty of their employees. It is always better to find and keep the right hires to start with. And, as a good employee is an appreciating asset, the longer they stay, the more value they add. Ideally, they are always considering how to get promoted. How best to increase the chances of that?
Job Descriptions
A solid first step is solidifying the job description (JD), which outlines where the individual employee fits into the greater business. Employees need to be able to visualize their piece of the whole, and a good JD helps ensure the people you employ are aligned with the goals, vision, and mission. "Job descriptions tell candidates what you're looking for. This helps you in the selection process, and it also helps when you are addressing questions from those who are not selected", says Heathfield.
A well-formatted Job Description should always include the following:
The position's official title
The job's purpose, or goal
Key responsibilities and accountabilities
Benefits of Strong Job Descriptions
Job Descriptions (JDs) play a much larger role than just recruitment and hiring. JDs are objective and impersonal. That makes it far easier for parties to have productive discussions of shortcomings or to overcome misunderstandings -- you need only look at the description to find neutral ground. The first step in getting people to do what you want them to do is to make sure that people know your expectations -- and that starts with the job description.
"The JD is the first place to look when employees aren't doing what you want them to."
- Ferdinand Fournies in his book, Why Don't Employees Do What They're Supposed to Do and What to Do About It
In the grander business scheme, solid job descriptions can also:
▪

Help coworkers work with the new person
,

by staking out the boundaries of the new person's responsibilities. The best practice is to involve current employees in developing the new person's description -- they know best what they do, so you can avoid duplication.
▪

Assist management in improving the organization
,

and can be used as the building blocks of the organization's structure. Analysis of descriptions reveals whether all responsibilities are adequately covered and where reallocation might be indicated.
▪

Provide good basis for compensation decisions
,

as the source material for job evaluation, grading, and pricing.
▪

Dictate how various individuals, departments
,

and other entities can and will relate to one another. When used to its fullest advantage, they can settle grievances, minimize conflicts, and improve communications.
▪

Support Americans with Disabilities Act (ADA)
analysis by providing a basis from which to determine whether an applicant with a disability is qualified for the job and to determine if any accommodation is required to perform the essential functions of the position.
Employee or Contractor?
Another important hurdle in setting the parameters of a job is whether the position is the best fit as an employee or a contractor. Changing business conditions and worker preferences for flexibility in hours and location mean this is an ever-growing question for Human Resource departments. So, what makes someone an employee, rather than a contractor?
Here are some of the most basic differences: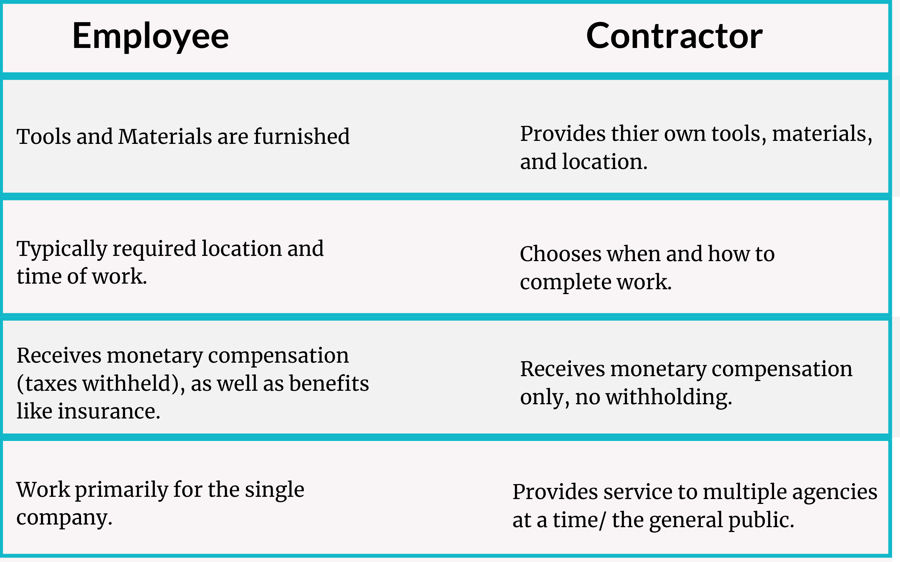 Being a full-time employee can give peace of mind, because the company is fully behind the employee with an understood long-term commitment, and taking care of their needs. Contractors must fend for themselves when it comes to insurance and other benefits, as well as sorting out their own withholdings. Employees also have more job security and legal protection from being laid off than contractors.
Temp agencies hire out contractors to companies that just need work during growth phases, or companies might want contractors for one-time projects that are outside of the scope of expertise of their regular teams and departments, or to outsource a specific business function.
However, several large companies have received court judgments against them for allegedly misclassifying employees as contractors to avoid paying benefits – and this is a common occurrence especially in smaller enterprises.
When attempting to discern whether a person should be classified as an employee or a contractor, the IRS' Revenue Ruling 87-41 offers the full list of rules for determining each. It is also important to note that states (especially California) have additional and more specific rules on worker classification.
Recruiting
Once a job is set, it's time to start recruiting for it. Hard data on recruitment strategies is limited, but there are four general approaches to recruitment (though there is generous overlap), and each has its acknowledged benefits and disadvantages.
▪ Formal -
Placing a listing online or in a newspaper, job fairs
▪ Informal –
Walk-ins, referrals, previous employees
▪ Internal –
Filling positions from persons already in the company
▪ External –
Filling positions from outside the organization

Performance Appraisal
The performance appraisal process typically consists of four interrelated steps as follows.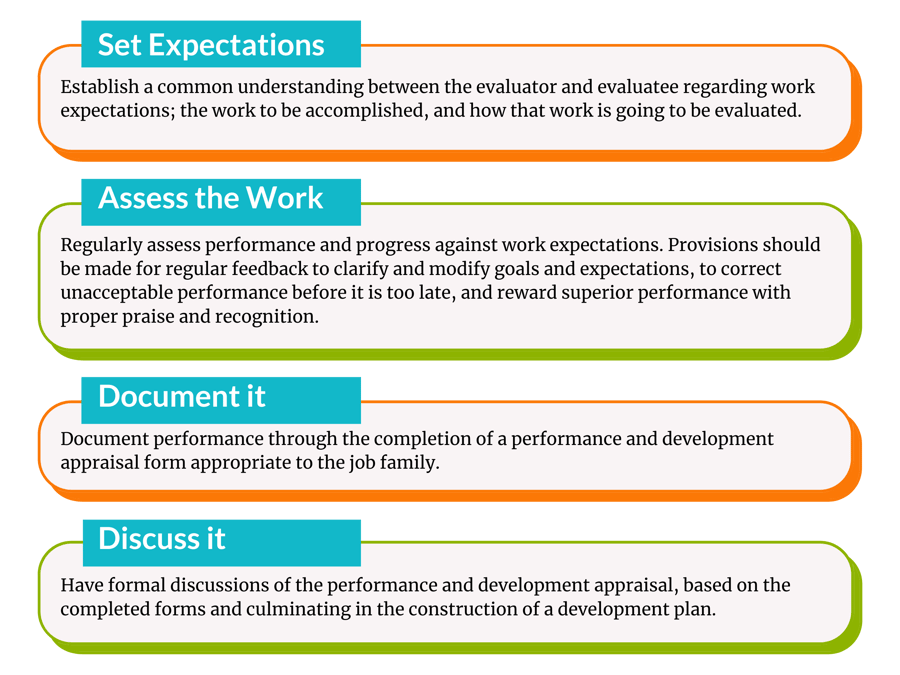 Helping Sustain Success
People who are natural motivators can see the employee needs of each individual under their management and relate to them in a way that makes them want to excel. Most managers in any field have a good grasp of this skill, but the best managers can make any piece (or employee, in this case) fit the puzzle.
So, what exactly is motivation? Some define it as "the things which drive a person to do anything." It's a sort of carrot at the end of a stick. But a more in-depth definition would be that motivation is the forces that account for the direction, level, and persistence of a person's effort expended at work.
On a work analysis survey, it's important to keep watch for whether an evaluator consistently rates higher or lower than others. This is called "rater bias" and should be noted.
Hierarchy of Needs Theory
Abraham Maslow developed the Hierarchy of Needs Theory, a perspective which describes five basic needs of the individual and are arranged in hierarchical order.

Research indicates that the various levels of need are probably not as closely aligned with the order of satisfaction that Maslow described. A level of need can even be intentionally violated. For example, the hunger strikes of Mahatma Gandhi and others show how a lower-level need can be purposefully neglected for a higher-level purpose, and vice-versa.
Cultural differences are a factor on the social level and above, but depending on various factors, such as the type of work a person performs, cultural factors play a larger or smaller role. For example, in many manufacturing facilities, safety concerns are cut and dry and are not affected as much by culture.